Shopping Cart
Your Cart is Empty
There was an error with PayPal
Click here to try again
Thank you for your business!
You should be receiving an order confirmation from Paypal shortly.
Exit Shopping Cart
ALL THE YEAR ROUND BOWLS - INDOOR AND OUTDOOR
ERDINGTON COURT BOWLS CLUB
This month, the Royal British Legion celebrates 100 years of its annual poppy appeal.
It comes after a very difficult Covid-19 restricted appeal in 2020.
The Legion has been holding events around the Country to raise awareness of the anniversary and help redress the shortfall in funding that occurred in 2020.
Royal Sutton Coldfield District Organiser David Ballantyne is also a member of Erdington Court Bowls Club and appealed to his fellow bowlers for help. Most of those members come from Sutton Coldfield.
As a result, the Club hosted a week - end of sponsored socially distanced challenges linked to the 100 theme - and raised over £500 for the Legion.
Several Club players including David, undertook over 100 ends of bowls against a relay of other members, and they played for 7 - 8 hours, walking over 10km in the process.
Ray Woods was another of the Court members who took on the 100 end challenge. He said,
"When David explained the difficulties experienced by the Legion - in common with many other charities, we were delighted to help. Thankfully, the weather was kind to us and our all weather rinks coped well with the occasional showers. We are really pleased to have raised over £500 and are grateful to all members who supported this appeal."
Erdington Court has 6 outdoor rinks and a full size 4 rink indoor arena. It is currently only operating outdoors in line with current guidelines. You can find details of the Club at www.erdingtoncourtbowlsclub.org.uk and follow them on Facebook at Erdington Court Bowls Club and on [email protected] New members are encouraged to apply. Full training is given. Call 07967 686230.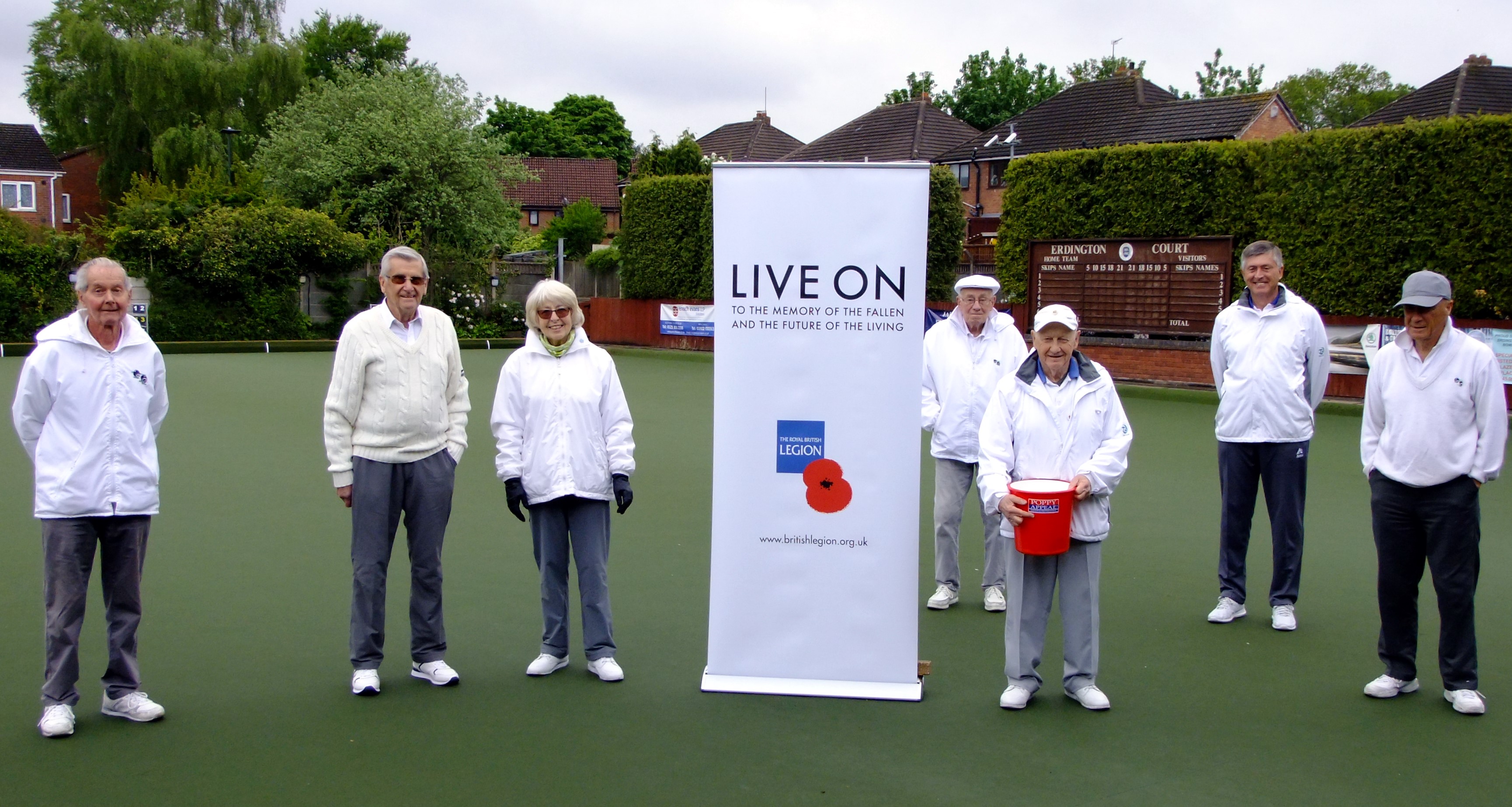 ERDINGTON COURT BOWLS CLUB RE-OPENS FOR 2021 OUTDOOR SEASON
Club Officers intend reopening the club from Monday 29/03/2021
We will initially, be running steward sessions each day limited to 18 members per session
Monday 10.00-11.30
Monday 18.00- 20.00
Tuesday 10.00-11.30
Wednesday 11.30-13.00
Thursday 10.00-11.30
Friday 10.00-11.30
And Friday PM
The Crowhurst Challenge. Start time to be confirmed.
Social distancing and Government regulations governing these, will remain in force.
These will be subject to change once we can become fully operational.
please contact Secretary Les Barrett 0780 122 7367
for further details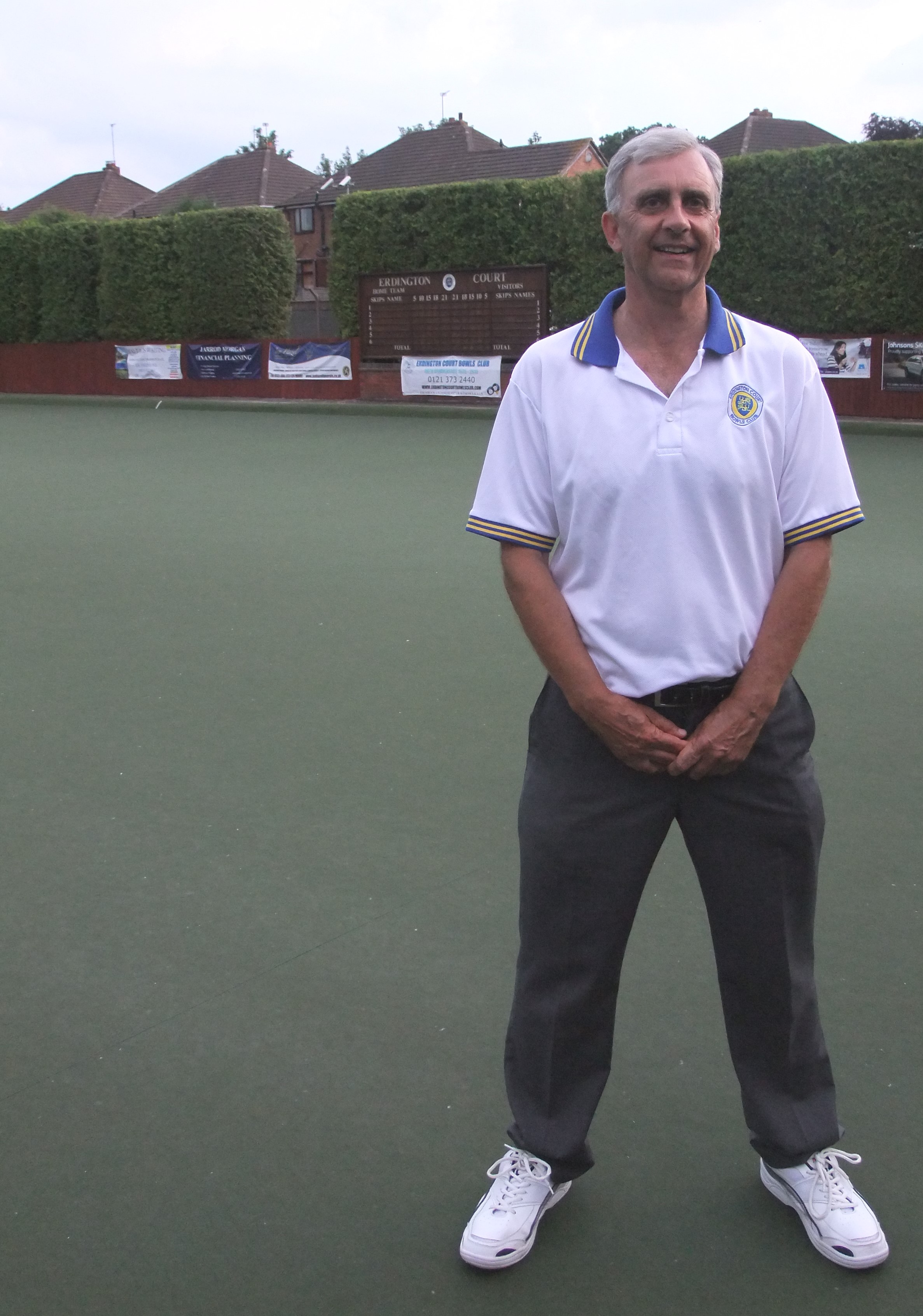 Erdington Court's Paul Vaughan and Mark Ireland were crowned Warwickshire Indoor Bowls Pairs Champions on Saturday. They got off to a rocky start at Birmingham Indoor Bowls Club and were 10:2 down at the half way stage. However their resilience shone through and they took the game 17-14.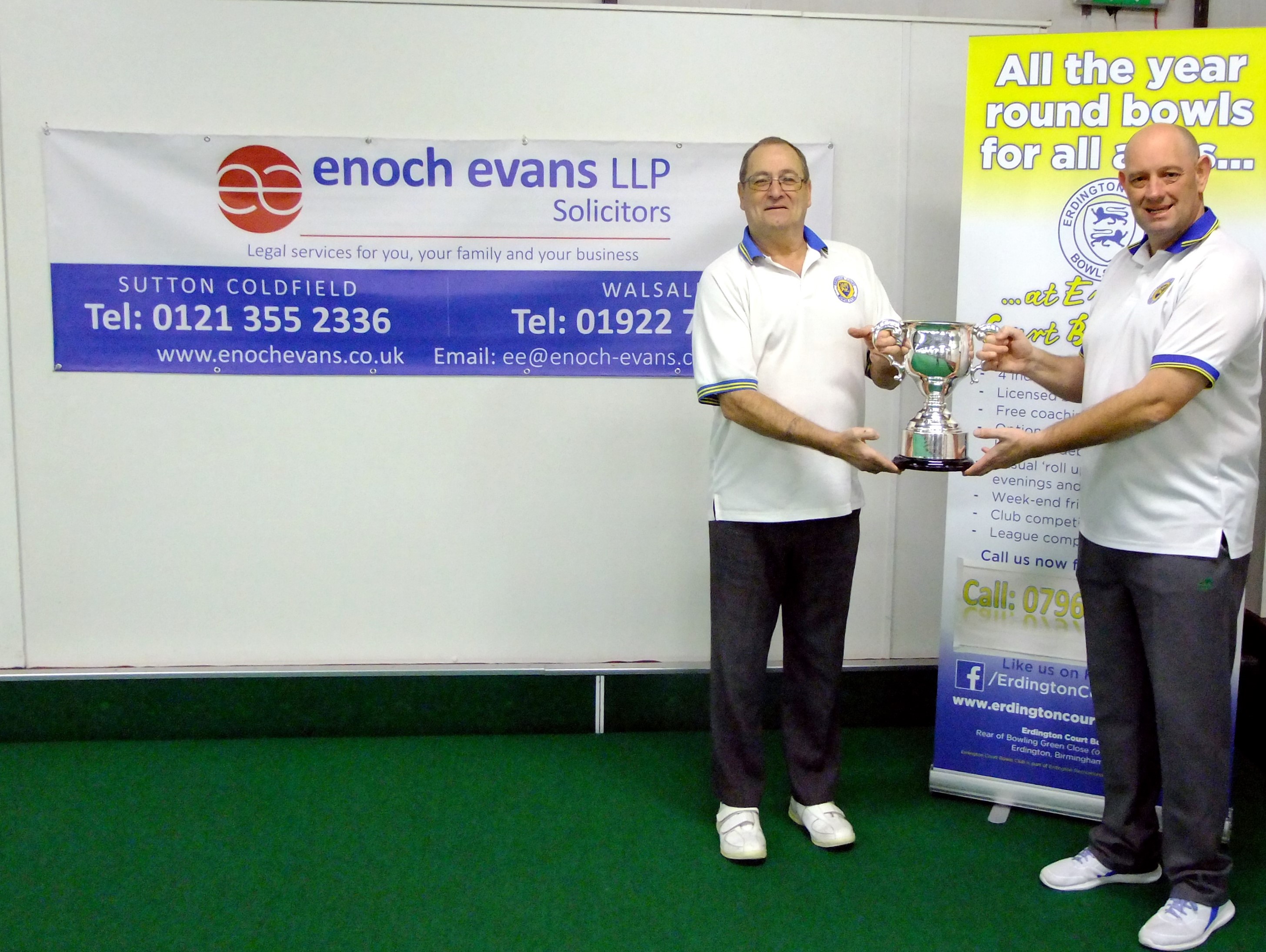 Erdington Court Bowls Club was able to top off the indoor season by announcing their 10th local sponsor - Enoch Evans LLP confirmed that they would be joining other local businesses who have shown their sport for this growing Club in recent years.
 Reiss Matthews, Partner and Solicitor at Enoch Evans LLP said:
"Supporting the local communities surrounding our offices and working with clubs that are important to the Region is part of the personal approach of Enoch Evans LLP. We are delighted to be working in association with Erdington Court Bowls Club - having grown the firm's footprint from our headquarters in Walsall to a branch in Sutton Coldfield in 2018. I speak for the whole team when I say it is a pleasure to be backing such a great local club."
 Ray Woods Marketing Officer for the club added,
"We could not survive and grow as a Club without our sponsors. They are all locally based and actively involved with our members. We are delighted to welcome the support of Enoch Evans LLP as we move into another year of outside competition. The Company will also be offering legal services to members. New members are always welcome to join us!"
Pictured with Club Members are L2R: Reiss Matthews and Steve Nixon of Enoch Evans LLP.
It was another solid home win for Erdington Court at the week end. This time they beat Tamworth at the Court's Bowling Green Close arena by 74:54. Erdington's stars of the day were an all female squad led by Ruth Acum from Great Barr. Together with team mates Mary Webster- Walmley, Joan Garner -  Sutton Coldfield and Pam Ellis - Streetly  they won 24:7.
The Court's pair in the Warwickshire Champion of Champions- also held at home,pulled out all the stops, to beat Birmingham by a stonking by 23:1 and reach the finals of the competition. The Court pair were Mark Ireland from Hodge Hill and Paul Vaughan from Sutton Coldfield and the Birmingham pair, James Heesam and Tony Hill.
This week end sees the final of the Club's 3 week Sandy Powell competition sponsored by Jarrod Morgan Financial Planning of Lichfield. The 4 winners will get afternoon tea at the Ramada Hotel for themselves and a guest - and competition is getting fierce.
WARWICKSHIRE MEN'S INDOOR
A 4 man squad from Erdington Court formed part of a Warwickshire team that beat Oxfordshire Indoor County Bowls Association 117:127 at Oxford. The Court squad consisted of Alan Bowen - Aldridge, Neil Ballinger New Oscott, John Green from Stechford and Ray Woods from Pype Hayes.

In the latest round of a prestigious Warwickshire Indoor Bowls Association competition, Erdington Court won the tightest of contests at their Bowling Green Close arena.
The Warwick trophy features 8 man squads from across the County. At home to Welford On Avon, the Court won by a single point on each rink. After games lasting over 3 hours, the scores were 15:14 and 25:24 - giving the Court maximum points.Tamworth currently head the League.
Erdington Court welcomes new members of all abilities and offers free coaching courses. It is the only Club in North Birmingham, Sutton Coldfield and South Staffs with a full size indoor arena. The Club can be contacted on 07967 686230. You can also visit their web site at www.erdingtoncourtbowlsclub.org.uk and follow them on Facebook at Erdington Court Bowls Club and on [email protected]
New Member Wins New Boxing Day Trophy
At a time when most were recovering from Christmas Day, a new member of Erdington Court Bowls Club walked away with the honours - in a traditional competition that has been taking place for over 40 years!
Dave Wright from Minworth fought off all - comers in the Club's Jarrod Morgan Boxing Day morning competition, to claim the brand new trophy provided by the sponsors. The competition took over 2 hours and involved over 20 experienced and novice players - both men and women. The junior winner was Oliver Bathurst and Sandra Newey won the novices/ non bowlers trophy
Club Marketing Officer Ray Woods said,
"It was a great achievement for Dave who joined from another Club only about a week before.The competition has been organised by the Robinson family for over 40 years and this year, was sponsored for the first time by Jarrod Morgan Financial Planning of Lichfield. The mulled wine and food provided by the Robinsons went down a treat ! CHS Healthcare another sponsor kindly provided pens for the event. We are grateful to everyone involved."
Erdington Court welcomes new members of all abilities and offers free coaching. The Club can be contacted on 07967 686230 and you can view their web site at www.erdingtoncourtbowlsclub.co.uk and follow them on Facebook:Erdington Court Bowls Club and on [email protected]
It was a busy week end at Erdington Court's Bowling Green Close arena, featuring a local (friendly) derby on Sunday - with the Court beating Birmingham Indoor Bowls Club by just 2 points overall, after 2 hours of play. The final score was 65:63 with the 18th and final end making the difference.
Shortly before, the Court's Warwick trophy squad had clawed their way to a 1 rink win over Coventry in a third round match - and taking it overall on points.
Saturday saw the second round of the Star Cars Road to Santa Club competition that culminates this week end. The winners will be announced on Saturday afternoon.
This week also features an all men Court squad amongst a Warwickshire President's invitation team - playing a six rink fours match at Birmingham.
Erdington Court welcomes new members of all abilities and offers free coaching. The Club can be contacted on 07967 686230. You can also visit their web site at www.erdingtoncourtbowlsclub.org.uk and follow them on Facebook at Erdington Court Bowls Club and on [email protected]
/